Born in Naihati, undivided Bengal, in 1915. Full name Chittaprosad Bhattacharya.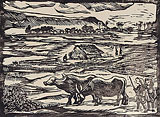 Ideologically, it seems that the man had two basic preoccupations -- first, the fight against colonialism
And second, an angry understanding of the feudalism and class structure that were a part of India herself.
Chittaprosad dropped the 'Bhattacharya' early on, preferring to go by only his first name.
He joined the Communist Party of India soon after college.
In 1943, at the age of twenty-eight, he travelled through Midnapur during the Bengal Famine. Some of his prolific recording of the famine was published in The People's War, the CPI's weekly newspaper.
He was clearly horrified by what he saw, and, also clearly, he strove for realism
This man's name was Kshetramohan Naik, and he lived in Midnapore.
We know this because Chittaprosad was not content to simply draw the horror. He reported on individuals --people, their families and homes, and what the Famine had done to them.
So many of his drawings from this period have the names of the subject written just beside the illustration.
Somehow knowing the name of a person changes it all. You have to wonder how many of the many individuals and families he drew survived the famine. Not many, probably.
Our British overlords reacted with predictability. They burnt every copy of his artwork they could find. This was lots of copies of the weekly, and all but one copy of his collected visual ethnography of the famine, Hungry Bengal.
And then there are his political illustrations
That's pretty clear, then.
Swinging the arc between deep empathy and acid humor in expression, there is however very little ambiguity about where his sympathy lies
He used the traditional pen-and-ink, but also linocut, woodcut, charcoal and watercolours.
Using lino or wood to make blocks from which to print means carving out all the detail of the picture in the mirror image and in the negative
A friend who studied art tells me cutting is an unforgiving sort of activity. You make one mistake, you start all over again. These were Chittaprosad's preferred media of expression.
He has some wonderful children's art, and he started an illustrated Ramayana, which was never finished. Some of those prints are quite incredible. He also has some really neat frogs, at least one of which dances with an umbrella under the Bengal rain.
Chittaprosad died 1978 in Kolkata, the capital of by then divided Bengal.